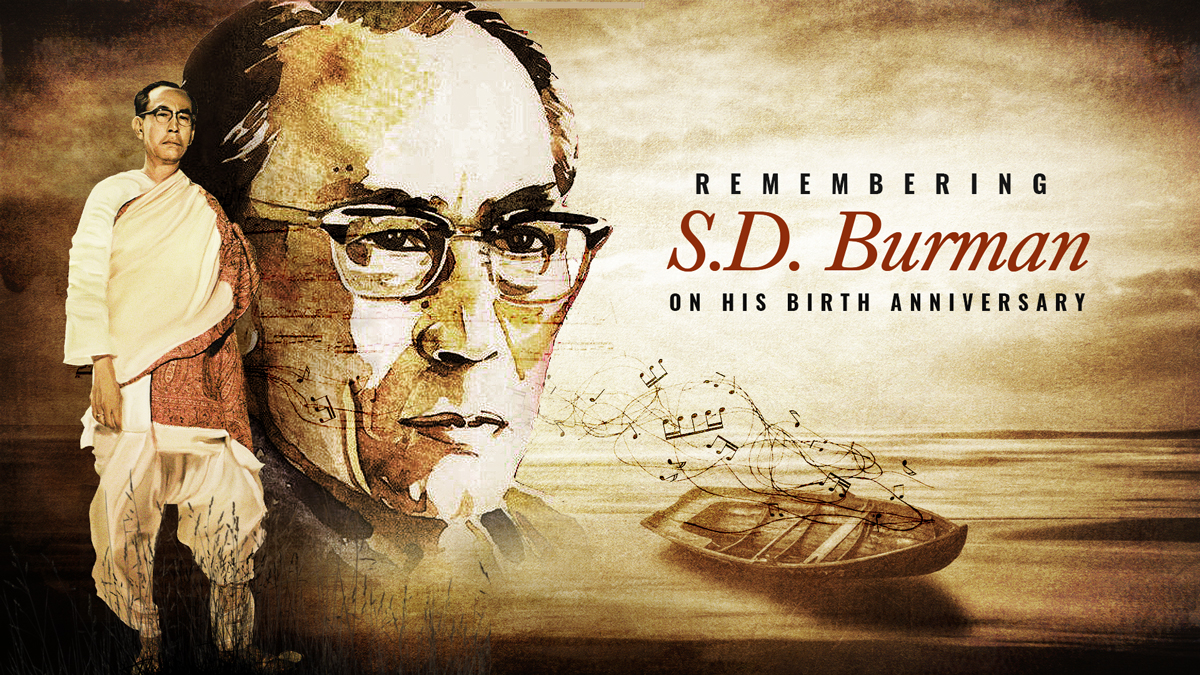 Sachin Dev Burman, or popularly known as S.D Burman was one of the most legendary music composers to have ever graced the Indian entertainment industry. The songs and the music he created were timeless and are still quite popular even decades after his death. His music and his songs are a trove to the Indian industry like the peppy number Mehbooba Mehbooba, or the soulful melody of Tyjhse Naraaz Nahi Zindagi, S. D Burman had the ability to make you groove.
He started working in Bengali movies at the beginning of his career and then switched to Hindi movies where he composed music for over 100 films including Hindi and Bengali films. His music was sung by the nation's leading artists and playback singers such as Lata Mangeshkar, Mohammad Rafi, Asha Bhosle, and Kishore Kumar amongst others. 
Born on the 1st of October 1906, S.D Burman was a member of the Tripura royal family. Growing up, Burman was the youngest of the five sons of his parents who had nine kids in total. His first school was that of Kumar Boarding in Tripura, Agartala; a school fit for royal children. Though later on, he went to Comilla Zilla High School. After completing his graduation, Burman left for Calcutta to start his M.A but he never got to finish his degree as the music took him over for good. From then onwards, S.D Burman started his formal music training under the musician K.C Dey from 1925 to 1930.  
Burman started working as a radio singer on Calcutta Radio Station; during this time his music composition was based on light Hindustani Classical music and Bengali folk music. Apart from composition, Burman also did playback singing and at his peak as a singer he cut as many as 131 songs in Bengali, singing for various composers like Nazrul Islam, Sailesh Das Gupta, RC Boral, and he even sang for his son R.D Burman.  
As a composer, S.D Burman started with Bengali plays Sati Tirtha and Janani, and gave music to Bengali films like Protishodh (1941), Chaddobeshi (1944), amongst others before he permanently moved to Mumbai in 1946. 
At the request of Sasadhar Mukharjee of Filmistan, Burman moved to Mumbai to give scores for two movies; Shikari and Ath Din in 1946. Although Burman's big break as a music composer in Hindi cinema came with the movie Do Bhai in 1947. Followed by his breakthrough, nation-favorite rage songs Mera Sundar Sapna Beet Gaya and Yeh Duniya Roop Ki Chor.  
Some of S.D Burman's most popular Hindi compositions include Jaane Who Kaise Log The Jin Ke (Pyaasa), Chhod Do Aanchal (Paying Guest), Mana Janaab Ne Pukaara Nahi (Paying Guest), Tabdeer Se Bigdi Hui (Baazi), Sar Jo Tera Chakraaye (Pyaasa), Ek Ladki Bheegi Bhaagi Si (Chalti Ka Naam Gaadi), Hai Apna Dil Toh Aawara (Solva Saal), Puchona Kaise Maine Rain Bitai (Meri Surat Teri Aankhein), Gaata Rahe Mera Dil (Guide), Meri Sapno Ki Raani (Aradhanna), Tere Mere Mila Ki Yeh Raina (Abhimaan), amongst others. You can now download High Quality mp3 song from Saregama website.
S.D Burman won two National Film Awards for Best Male Playback Singer and Best Music Direction. In 1958 he was given the Sangeet Natak Akademi Award. S. D Burman was nominated for seven Filmfare Awards, and he won two of them along with five BFJA awards; four for Best Music (Hindi Section) and one for Best Male Playback Singer. In 1969, S. D Burman was honored with the Padma Shri, given by the Government of India. In 2007, the Indian Post released his post stamp as a homage to the late legendary music composer.  
Soon after rehearsing for his upcoming song "Badi Sooni Sooni Hai" from the movie Mili, S. D Burman went into a coma, and he passed away on the 31st of October 1975 in Mumbai at the age of 69. 
Now get your S.D Burman songs mp3 download and enjoy endless hours of timeless music with Saregama.  
On the 115th birth Anniversary of the legendary music composer S.D Burman, Saregama celebrates his life and his contribution to the India Entertainment Industry.