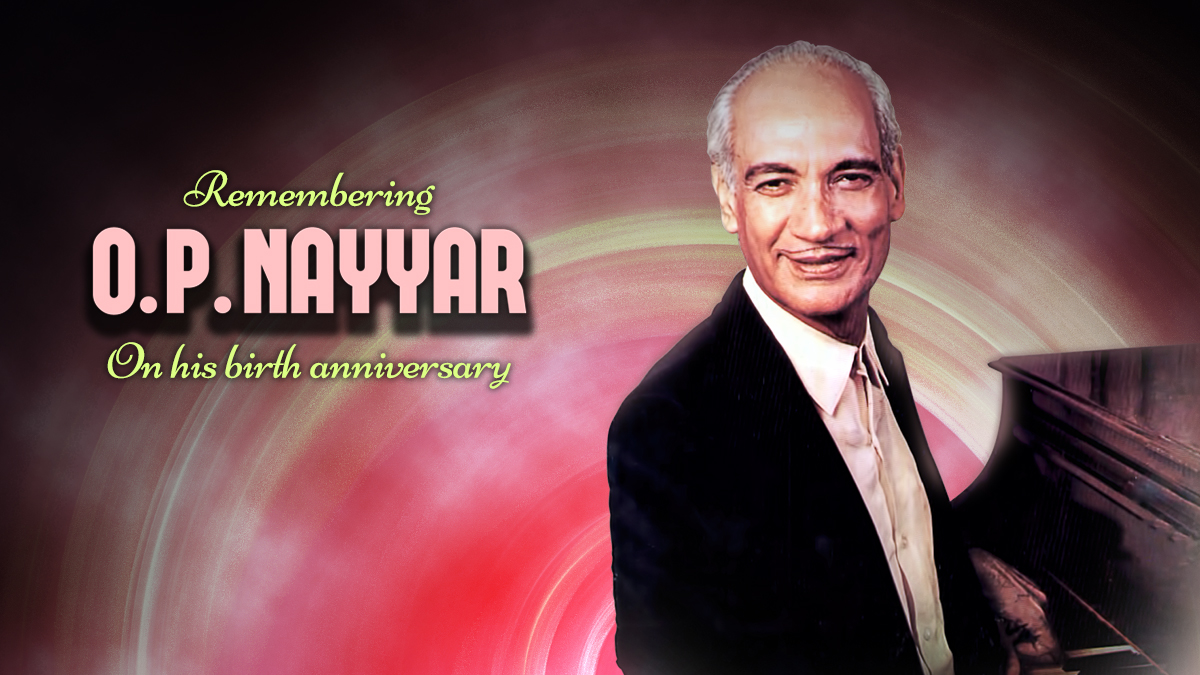 Any listener of OP Nayyar's avant-garde, romantic, and sensuous music will be drawn to his music immediately. In the film industry, his melodic, catchy style of music halted the existing too good to be true music scenario, and the second listeners heard it, they were hooked to it. You've probably been mesmerized by Asha Bhosle's timeless classics Mere Sanam, Kashmir Ki Kali, and other gems in her beautiful voice. O.P Nayyar songs have ironed the wrinkles of our stress-filled lives through his immortal and timeless melodies.
A music lover since he was a child, Om Prakash Nayyar was born on 16 January 1926. In order to establish himself in the music industry, he ran away from home at a young age. In 1949, Kaneez, an Urdu/Hindi film, was his first composition project.
Naya Daur, released in 1957, rocked India and came as a turning point not only for O.P Nayyar but also for Asha Bhonsle. O.P Nayyar songs with Asha Bhonsle created a stir in Bollywood. The duo gave us some of the memorable songs of Hindi Cinema like 'Jaayiye Aap Kahan' (Mere Sanam), 'Raaton ko Chori Chori' (Yeh Raat Phir Na Aayegi), 'Zara Haule Haule', 'Meri Jaan Tumse Sadke' and 'Aaj koi Pyar Se' (all in Sawan Ki Ghata), 'Aayiye Meherbaan' (Howrah Bridge), and 'Aankhon Se jo Utri hai dil Mein' (Phir Wohi Dil Laya Hoon) and many more. The magical combination of Asha and O.P. has become an integral part of Bollywood's tradition. It is unlikely that a harmonious combination like this will ever emerge again. O.P Nayyar utilized Asha's versatile qualities and range of her silky-smooth voice to the hilt.
O.P Nayyar went on to notch up even higher distinction through his compositions for Naya Daur, Howrah Bridge, Jaali Note, Phir Wohi Dil Laya Hoon, and Mere Sanam. The former movie included his enormously popular O.P Nayyar songs, Bandaa Parwar, Thaamlo Jigar, while the latter included Jaayiye Aap Kahaan Jaayenge and Pukaarataa Chalaa Hoon Main. Some months later, his scores for the movie Kashmir Ki Kali again gained high popularity.
What made O.P Nayyar's music unique? It was he who shifted the then conventional equilibrium of a Hindi film song from melody to rhythm. He was considered the original 'rhythm king' of Bollywood music. O.P Nayyar songs combined Punjabi folk style with Western rock 'n' roll provided a racy and rhythmic mixture of music. His music was fast, spirited, and full of zest and zing. By the late 50s, O.P Nayyar songs had become so popular that even composers of Madanmohan's excellence used the songs.
Saregama has a vast collection of O.P Nayyar songs that we would like to share with you and recommend you to add to your timeless O.P Nayyar songs list.
In 1968, a movie titled Humsaya was released. It was a Hindi romantic spy thriller film produced and directed by Joy Mukherjee. The movie featured beautiful Sharmila Tagore in the lead. The album is full of O.P Nayyar songs as he directed the music for this movie. Some of the songs from Humsaya that should be in your playlist are Dil Ki Aawaz Bhi Sun by Mohammad Rafi, Badi Mushkil Se Kabu Men by Asha Bhonsle and Mahendra Kapoor, Woh Haseen Dard De Do, O Kanhaiya Kanhaiya, and Aa Ja Mere Pyar Ke Sahare by Asha Bhonsle and the best Mujhe Mera Pyar De Do by the duo Asha Bhonsle and Mohammed Rafi.
O.P Nayyar songs are timeless, and songs from the album of Howrah Bridge are a living example of the same. The movie has some of the best O.P Nayyar songs. The song Mera Naam Chin Chin Chu by Geeta Dutt is still one of the most played and known O.P Nayyar songs. Some other songs from the movie Howrah Bridge that should be a part of your O.P Nayyar songs playlist are Aaiye Meharban and Yeh Kya Kar Dala Tune by Asha Bhonsle, Dekh Ke Teri Nazar, Gora Rang Chunariya Kali, and Mohabbat Ka Haath Jawani Ka Palla by the legendary duo Asha Bhonsle and Mohammad Rafi, Main Jaan Gayi Tujhe Saiyan by Mohammad Rafi and Shamshad Begum and Howrah Bridge part 1 to part 7 by Asha Bhonsle and Ashok Kumar.
O.P Nayyar co-produced many songs with Shamshad Begum, including the very famous Kajra Mohabbat Wala from the movie Kismat which was released in 1968. The song, originally sung by Asha Bhonsle, has seen many renditions over the years. Other songs from the movie Kismat that makes an essential contribution to the O.P Nayyar songs list are Lakhon Hain Yahan Dilwale and Ankhon Mein Qayamat Ke Kajal by Mahendra Kapoor, Aao Huzoor Tumko by Asha Bhonsle, and One Two Three Baby by Asha Bhonsle and Mahendra Kapoor. All these O.P Nayyar songs are classics that you can download from the Saregama website or app and can also listen to on Saregama Carvaan.
While revisiting some of O.P Nayyar songs, we cannot forget to mention another of his timeless classics, C.I.D. The movie was a crime thriller featuring evergreen Dev Anand and Waheeda Rehman. Thi movie proved to be one of the milestones in O.P Nayyar's Bollywood journey. Songs from C.I.D. that should be a part of O.P Nayyar songs list are Ankhon Hi Ankhon Mein and Yeh Hai Bombay Meri Jaan by Geeta Dutt, Mohammed Rafi, Kahin Pe Nigahen Kahin Pe Nishana and Boojh Mera Kya Naam Re by Shamshad Begum, Leke Pahla Pahla Pyar by Asha Bhonsle and Mohammad Rafi and of course Jata Kahan hai Deewane by Geeta Dutt.
In addition to Hindi films, O.P. also composed music for a few South Indian films, including Neerajanam in Telugu. The music of Neerajam was such a rage that it created a record for the most sold album in the south until overtaken by A.R. Rahman's Roja. Such was his potential.
O.P Nayyar left us in 2007, but his music and compositions will live on forever. So visit Saregama and download O.P Nayyar songs. You can also listen to hit O.P Nayyar songs on Saregama Carvaan any time, anywhere!