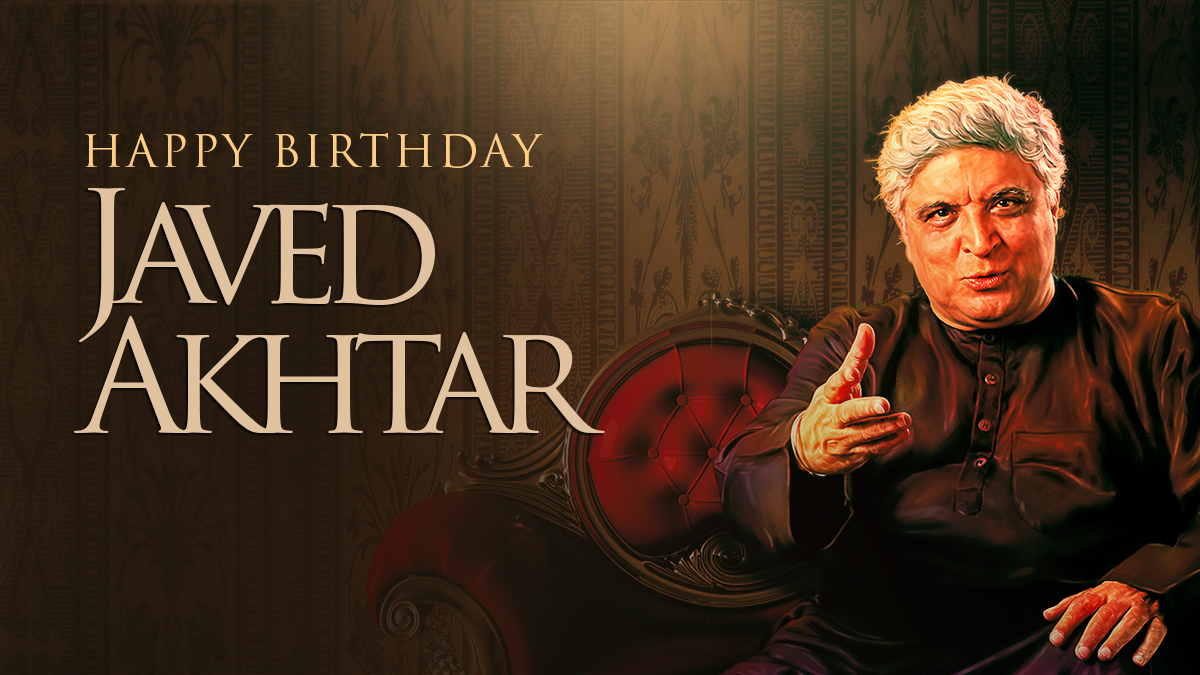 1945, Gwalior was the place where Hindi songwriters Jan Nisar Akhtar and Safia Akhtar, a teacher, singer and writer gave existence to their son Jadoo. The name Jadoo came from the poem "Lamha Lamha kisi jadoo ka fasana hoga" written by Jan Nisar himself. Later they renamed him, Javed, as it was the word with the closest meaning to the name Jadoo. Little did they know that the name Javed Akhtar will rule the industry with his writing and song lyrics someday.
Padma Bhushan Javed Akhtarji is a word sculptor, who with his sculpting skills gave Hindi songs a new dimension and added to the success of movies through his brilliant thoughts and writing. The contribution of Javed Akhtar Sahab to the field of literature as a poet and Bollywood as a screenwriter and songs lyricist has been very significant.
In the 70's, Salim- Javed received great recognition as screenwriters courtesy of Rajesh Khanna with the film 'Haathi Mere Saathi' and after that, there was no looking back for the duo and they went on writing films that are still considered the greatest hits of all time. Some of those films were 'Seeta Aur Geeta', 'Yaadon Ki Baarat', ' Zanjeer', 'Deewar', 'Sholay' and many more. Out of the 24 scripts they wrote, 20 turned out to be massive hits at the box office. Later the duo split and Javed Sahab gave up script-writing and turned to become a full-time lyricist.
This is when Hindi songs from films got a new meaning and Bollywood saw a tide of hit songs coming it's way. Javed Akhtar started giving his golden words some melody and turned them into chart-buster songs. Akhtar Sahab wrote songs for hundreds of Bollywood movies.
His career as a full-time lyricist began with the movie 'Silsila' released in the year 1981. This movie starring megastars like Amitabh Bachchan, Jaya Bachchan, Rekha, Sashi Kapoor and Sanjeev Kumar was a massive hit but what made it stand out was the songs from the movie are still on the minds of people even today. Javed Akhtar Ji penned songs like 'Dekha Ek Khwaab', 'Yeh Kaha Aa Gaye Hum' sung by legends like Lata Mangeshkar and Kishore Kumar for the film.
Hindi songs by Javed Akhtar became the voice of many Bollywood films and the importance of quality songs in a film reached new levels. The craze for Hindi songs was now increasing globally and Javed Sahab gave Bollywood music a new recognition.
Javed Akhtar sahab wrote hindi songs for blockbusters like 'Roop Ki Rani Choron Ka Raja', 'Tezaab','Mashaal','Laawaris','Jamai Raja' and many more.
Some Hindi songs that are evergreen and are still stuck to the minds of people are 'Ek Ladki ko Dekha' from the movie 1942 A Love Story, the famous dance number featuring the stunning Madhuri Dixit 'Humko Aajkal Hai Intezaar' from the movie Sailaab, 'Ye Tera Ghar Ye Mera Ghar' from Saath Saath and the song that promoted brotherhood and peace 'Panchhi Nadiya Pawan Ke Jhonke' from the movie Refugee.
Bollywood Hindi songs enriched with lyrics by Javed Akhtar Sahab will always strike your heart because of its soulful touch and a mix of Hindi and Urdu words.
Celebrating his 75th birthday this January, Javed Akhtar continues to pen down beautiful songs and there is no better lyricist in the country than can be compared to this man of Golden words.
You can now listen to all the Hindi songs created by the legend Javed Akhtar on Saregama Carvaan.
You might also be interested in
//www.saregama.com/blog/happy-birthday-to-the-mozart-of-madras-a-r-rahman/
//www.saregama.com/blog/celebrating-the-contributions-of-k-j-yesudas-the-gaanagandharvan/