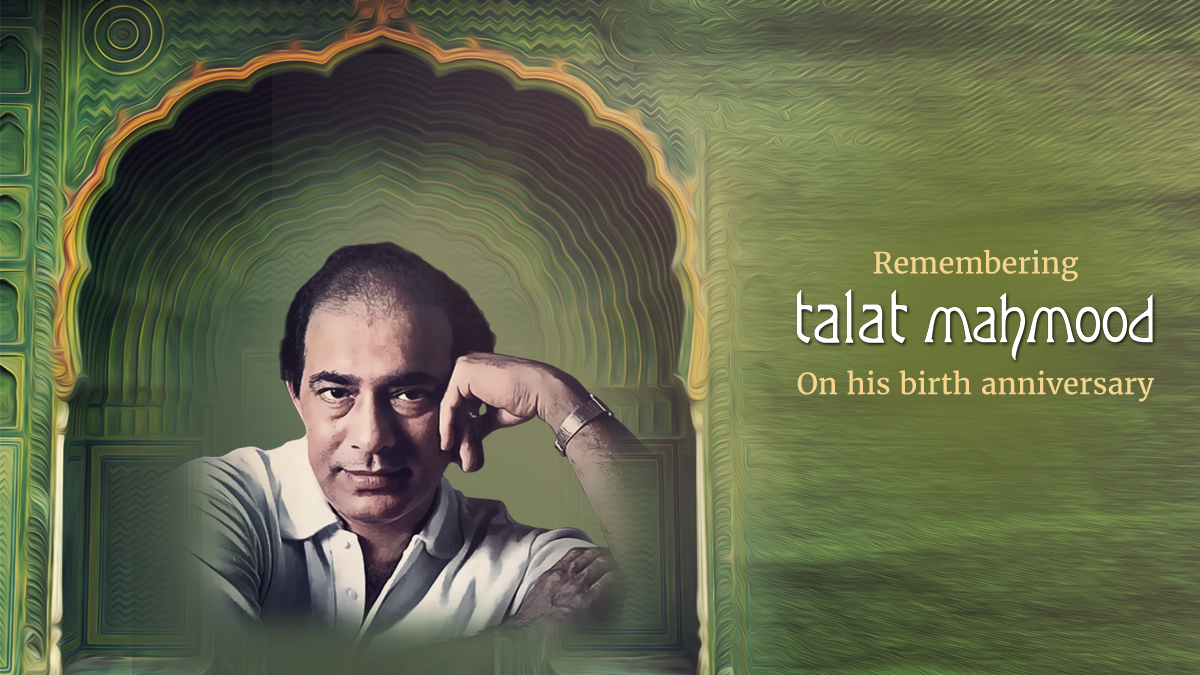 Bollywood, over time, has given rise to many sensational, talented and unique singing stars. From the likes of Mohammed Rafi to Kishore Kumar, Udit Narayan to Sonu Nigam, Lata Mangeshkar to Shreya Ghoshal. However, very few were born with a timeless voice that soothes the ears and thrills the heart without effort across generations. Such was the voice of majestic Ghazal singer Talat Mahmood who was a true gentleman in life too. Today is Talat Mahmood's birthday anniversary, and Saregama pays rich tribute to the Shahenshah E Ghazal of Bollywood.
Born on February 24, 1924, Talat Mahmood was from well to do conservative family in Lucknow. He was one among the six siblings and was inclined to music at a very young age. It is believed that he would spend a large amount of time listening to Indian classical music from legends. As years rolled by, at the tender age of 16, Talat Mahmood started rending his sublime voice to Ghazals of Ghalib, Mir and the likes on All India Radio-AIR Lucknow. Consequently, the unique voice and brilliant classical skill garnered attention from everywhere.
It didn't take much time for Talat Mahmood to deliver his first song disc from HMV in the year 1941. Although his songs were declared a success, they didn't bring in the attention as expected. But the appreciation, accolades and the taste of huge achievement came in the form of his next disc Tasveer Teri Dil in 1944. It was a humungous non-film hit of that time and Talat Mahmood became a national name.
Soon after, opportunities started knocking on his door like a stream. In those days, Calcutta or Kolkata of the present time was the hub of film activities. He sang for movies like Rajlaxmi 1945, Tum Aur Main 1947 & Samapti 1949. The singer Talat Mahmood was an actor too at that time as he acted in these movies. Then came the calling to move to Mumbai in the year 1949.
As many would think, Mumbai was not an easy place to succeed for Talat Mahmood. Although his name and fame preceded him, many music directors weren't confident in his quivering note. However, in time, Talat Mahmood met Anil Biswas, and he in turn, loved his quivering note. Ultimately, he sang the song Ae Dil Mujhe Aisi pictured on Dilip Kumar from the movie Aarzoo 1950. It became the breakthrough song for him in Bollywood. The magnificent Ghazal became a hit, and there was no turning back. His diction and intonation combined with the velvety voice were electrifying and immersive. This set him apart from his contemporaries. He became a legend in his lifetime.
He worked with all leading music composers like S.D. Burman to Madan Mohan and Shankar Jaikishan to Naushad. He became one of the greats among the legendary singers along with Mukesh, Kishore Kumar, Mohammed Rafi. Manna Dey. He sang more than 700 songs in different languages over a four-decade career. Some of the memorable Talat Mahmood songs are Jalte Hain Jiske Liye, Phir Wohi Shaam, Aa Teri Tasveer Banaloon, Aankhon Mein Masti Sharab Ki, Yeh Hawa Yeh Raat Yeh Chandani, Itna Mujhse Pyar Bara Ke, Main Dil Hoon Ek Armaan Bhara, Man Dheere Dheere Gaye Re, Meri Yaad Mein Tum Na Aansoo Bahana.
He was awarded the Padmabhushan award in 1992 for his contribution to Indian music. Talat Mahmood breathed his last on May 9, 1998, leaving a rich legacy through his evergreen songs. Listen to Talat Mahmood songs on Saregama Carvaan.