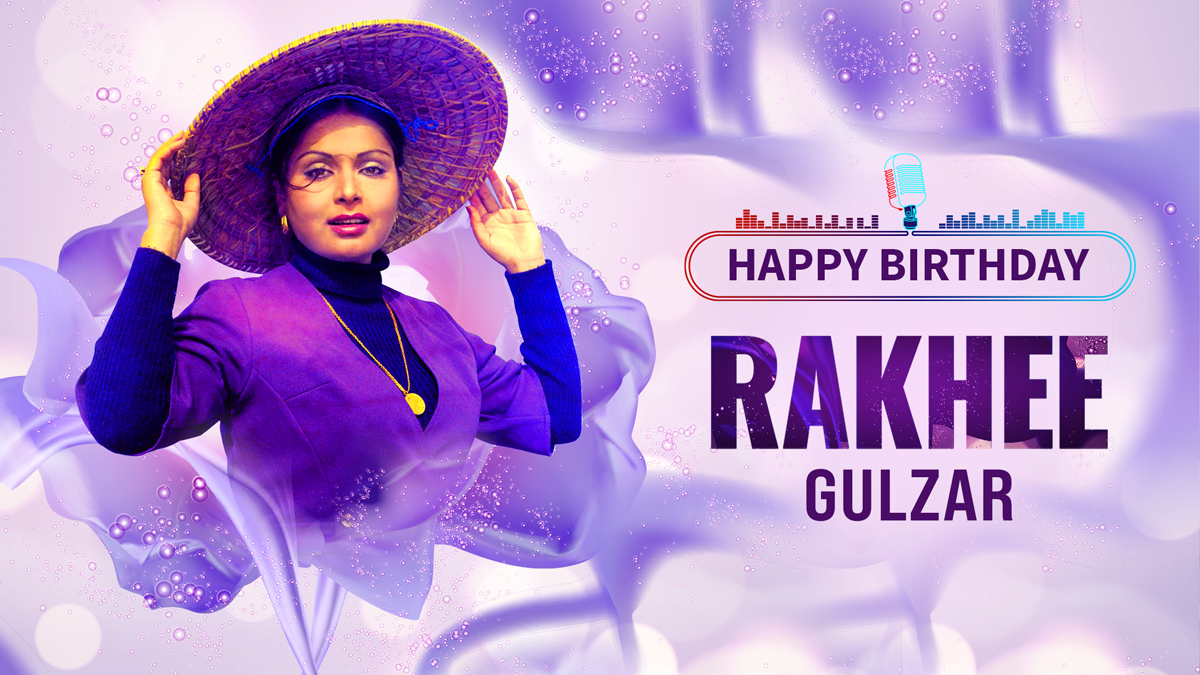 When India was celebrating its independence on 15th August 1947, Rakhee Gulzar, the hazle-eyed star, who ruled Bollywood for many decades, was born. A career spanning more than four decades, the yesteryear actress acted in some of the favorite Bollywood and Bengali movies of all time and gave many power-packed performances. On the special occasion of 75th Rakhee Gulzar's birthday, Saregama remembers the ever so elegant and graceful actress of Indian cinema. 
The Bollywood industry has seen so many stars since its inception. Some reach the pinnacle, bathe with glory and remain a giant. Others shine throughout but remain detached with it almost knowingly. "Rakhee", as she was credited in all her movies, belongs to the latter type. She was born in a Bengali family where her father was a businessman. Without any connection to cinema, it was always a difficult task to make it big in the movie industry. Nevertheless, she was an accidental actress who turned into a superstar during the golden era of Bollywood.
At the age of 20, her talent paved the way for her debut Bengali film "Badhu Baran" in 1967. As with many other famous Bollywood stars, the initial roles did not immediately translate into success. Three years into the journey and Rakhee eventually got her big break with the movie Jeevan Mrityu 1970. Starring opposite Dharmendra, the movie was a super hit, and she achieved stardom. And thus, the exceptional actress went on to show her acting prowess in one hit after another that included Sharmilee 1971, Lal Pathhar 1971, Daag 1973, Heera Panna 1973. One of the stand out movies was Kabhie Kabhie 1976 with Amitabh Bachchan, and the successful pair worked in other hits like Muqaddar Ka Sikander 1977, Kaala Pathhar 1979, Lawaaris 1981. Other memorable movies include Tapasya, Daag, Kasme Vaade, Trishul. 
She also featured in some of the most nostalgic and memorable Bollywood songs such as Kabhi Kabhi Mere Dil Mein, Khilte Hain Gul Yahan, Jhilmil Sitaron Ka Angan Hoga, O Meri Sharmilee, Mere Angne Me, and many others. You can listen to the best Rakhee songs on Saregama Carvaan. 
Rakhee, without any hesitancy, played the role of a mother in many movies, which was unusual for actresses in 1990s. But she was born free and had a mind of her own. Remarkably, she is perhaps the only actress who has worked with top superstars of the golden era like Rajesh Khanna, Amitabh Bachchan, Dev Anand, and Shashi Kapoor and the likes of Shahrukh Khan, Salman Khan, Sanjay Dutt, Anil Kapoor, Akshay Kumar, etc. She was liked for her performances in Karan Arjun, Baazigar, Border, Ram Lakhan, Khal-Nayak during the 1990s. Since 2000, she has appeared in a few Bollywood and Bengali movies of her choice. You can celebrate Rakhee Gulzar's Birthday by listening to her songs, one can download high-quality mp3 songs from saregama website.
Throughout her acting career, Rakhee received various awards, accolades, and appreciation. She won multiple Filmfare Awards, National Film Awards, and a Padma Shri Award in 2003.
As for Rakhee's personal life, she married a Bengali filmmaker, Ajay Biswas. But their marriage was short-lived. In 1973, she tied the knot with a famous poet, lyricist, and movie director Gulzar. The couple has a daughter Meghna Gulzar who is a movie director in Bollywood. However, it is in the public domain that Rakhee today lives as a recluse in Mumbai indulged in the things she loves like reading books, caring for animals, and growing plants in her sprawling farmhouse. As mentioned, Rakhee always carved her own destiny. She had her moments to shine, and now she is at peace doing what she loves. 
On Rakhee Gulzar's birthday, Saregama wishes the best to the Bollywood star and hopes to see a swan song movie of her soon. Listen to the best Rakhee songs on Saregama Carvaan and remember the superstar.