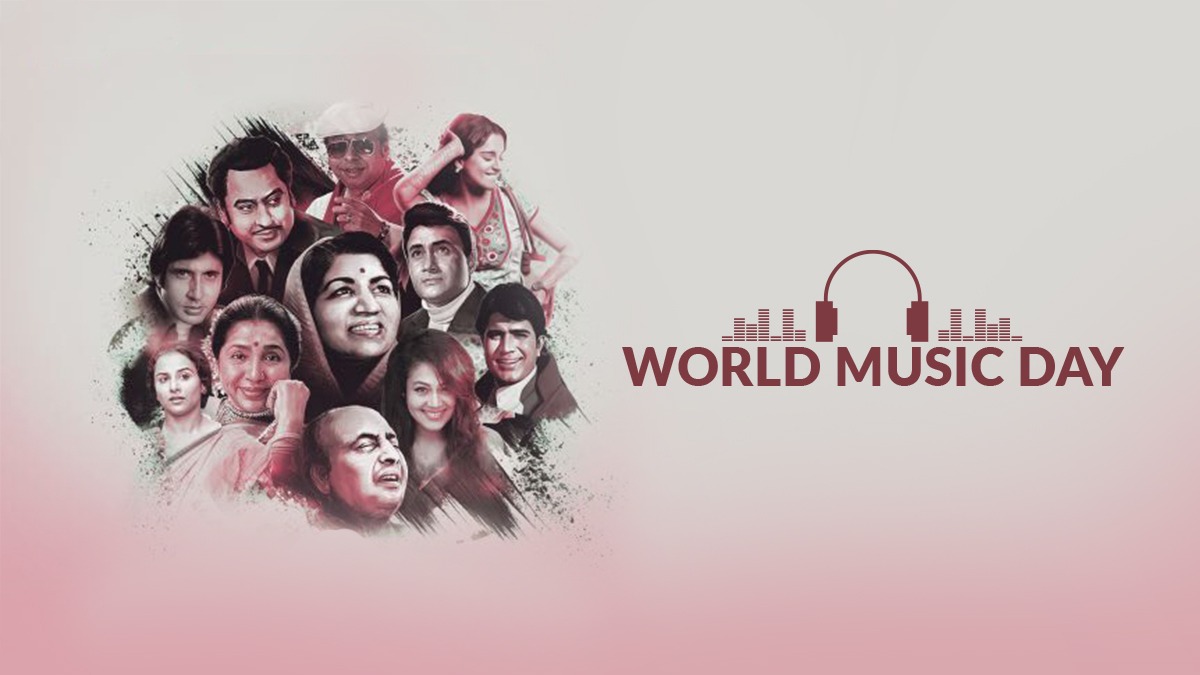 On World Music Day, let's take a deep dive into the world of music. The word "Music" has enlightened millions of lives around the world. Every part of the globe has introduced its style of music and some of them have even crossed borders. There are thousands of existing music genres followed around the world, the Afrobeat, K-pop, Indian Jazz, and many others. Cuban music originated from Cuba is considered one of the richest and influential regional music of all time. Indian classical music also has reached and impressed various music enthusiasts. With the emergence of the Indian film industry or Bollywood as it is known today, music underwent a new transition. Musicians including music directors and singers started inventing new styles of music after being influenced by international music and started implementing them in film songs. Indian music itself has so many genres divided by regions namely Carnatic music, Bangla music, Sufi music, Marathi music, Tamil music. Every genre has a distinct quality that represents the region and its culture. Remembering so much diversity of music is a great way to celebrate world music day 2021.
The Indian music industry rose to stardom due to the contributions of some extraordinary artists and music composers and directors. Songs by singers like Mohd. Rafi, Ilayaraja, and Kishore Kumar have been admired by people from various other countries and not only India. Indian classical music also has moved overseas and has earned respect from foreign musicians as well. Artists like Lata Mangeshkar, R.D Burman, Kumar Sanu, Bappi Lahiri, Jagjit Singh have taken the Indian music scene to another level. The world music day 2021 gives another opportunity to remember that music has no boundaries.
Music is co-related with relaxation. It calms your mind and enriches your soul. Music is also a medium of divine interaction. In India, Bhajans, Kirtans, hymns, and devotional songs are a medium of praising gods across all religions.
This year, like every year, 21st June will be celebrated as World Music Day. It was the year 1982 when musicians of all calibres, established or learners in France came out on the streets in their neighborhood played musical instruments together, and celebrated World Music Day for the very first time. After this, it became an international phenomenon and is celebrated in more than 700 cities and 120 countries that include China, India, Germany, Italy, Greece, Russia, Australia, Peru, Brazil, Canada, and more.
The significance of this day is that amateur and professional musicians perform together under the slogan of "Make Music." Many free concerts are organized all over the world allowing people to enjoy different genres of music.
Talking about Indian music and the work of various instrumentalists, composers, directors, and singers that went into creating original and path-breaking tracks that have been inspiring till today must be celebrated. It was difficult to search Old evergreen songs at one place and make them a part of your daily playlist. This is when Saregama introduced Saregama Carvaan, a digital audio player with 5000 preloaded Evergreen Hindi songs that pay tribute to many Indian artists and their beautiful and priceless contributions to the world of music. Not only has this, as an appreciation to regional music Saregama also launched regional variants like the Carvaan Bengali, Carvaan Tamil, Carvaan Marathi, and Carvaan Punjabi. On this world music day, enjoy all your favorite evergreen songs on Saregama Carvaan.
"Music gives soul to the universe, wings to the mind, flight to the imagination and life to everything."– Plato