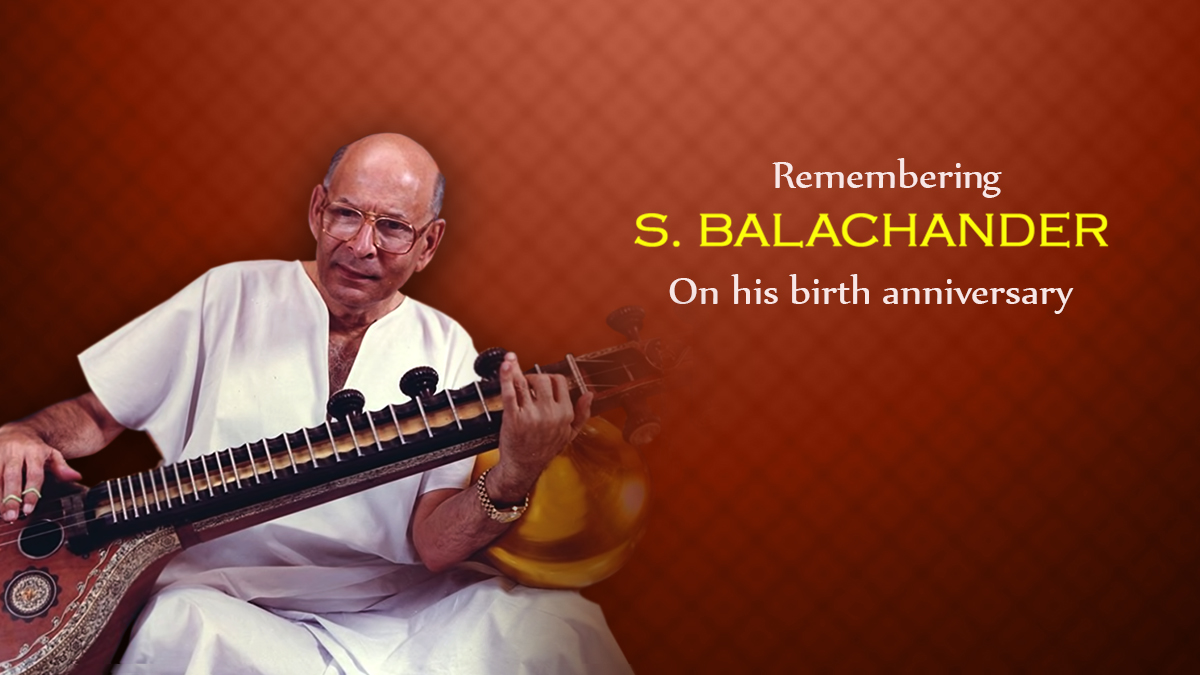 Filmmaker, music composer, actor, veena virtuoso, and poet, a talented, multifaceted individual, Sundaram Balachander or SB (as he was fondly known) enchanted the world through his talent. Having started as a child actor in Tamil films in the 1930s, he went on to compose music and produce and direct films as well. Being a child prodigy who learned veena through his own efforts, he became one of southern India's most accomplished veena players, in addition to establishing a solid career in Tamil cinema.
S. Balachander's father was a lawyer who devoted himself to Carnatic music. His house was often filled with musicians, mostly vocalists. While his brother was learning how to sing, Balachander devoted himself to listening. His first instrument was a kanjira, which he learned to play when he was just five years old. Soon enough, he began playing his percussion drum at the age of six, accompanying musicians in concerts.
When he was 15 years old, Balachander was employed by All India Radio.
The musician could master many instruments without the guidance and training of a permanent guru. Moreover, he did not adhere rigidly to the traditions of any particular Gharana. In time, he also developed a career in cinema as an actor, director, screenwriter, and composer.
On S. Balachander birthday, we look at his extraordinary personality. In realizing that the sitar was insufficient to express the nuances of the Carnatic tradition of music, which he loved, he then chose the Saraswati veena as his main instrument because it was more appropriate for his Gayaki style of music. He developed extraordinary skills playing the veena in a very short time, creating a new school of veena playing. He turned the veena into a famous instrument, garnering international acclaim because of his virtuosity. But he still avoided fusion collaborations to preserve the essence of the musical traditions. He could not compromise a divine art as he was a proud traditionalist. Each day, it was a surprise to see what Balachander played. Sundaram Balachander never knew which raga he would play for an upcoming concert because he was always an improvised musician. Using the connection between the performer and the listeners as a guide, he allowed intuition to drive the decision. Let's look at his most delicate piece of work that we brought to you on S. Balachander birthday.
To honor his legacy and celebrate S. Balachander birthday, Saregama brings you a list of SB's songs from his various albums and movies.
Starting from one of his most popular albums, which is nothing short of a collection of rare gems. The album is titled 'S. Balachander- Veena Maestro of India' compiles his best works. The album was released in 1966. On S. Balachander birthday, this album will be the best tribute to the maestro.
The album has two instrumental tracks that will transcend you to a peaceful world. The tracks are titled Angarakam and Gaeyhi Metha Kadinam. So make sure to add this particular album to your playlist from S. Balachander birthday.
Next up, we have another album that features SB's marvelous veena. They are Marvellous Melakarta Melodies. The tracks you should add to your S. Balachander birthday playlist are the Ragas played magnificently by Sundaram Balachander. Some songs other than the ragas are- Marivere Dikkevarayya, Buddhi Raadu, Sivanai Ninaindavar, Kalaavati Kamala Kalayewatni, Introduction – Navagraha Krithis, Sivanai Ninaindavar, and Varnam – Saveri. These instrumental tracks are entirely unmissable. Make sure to add these from the Saregama S. Balachander birthday playlist.
S. Balachander was also an accomplished director. Over his time in the Indian Cinema, he directed almost eight feature films. One of the movies that deserve mention here due to its exceptional soundtrack is Edhi Nijam. The movie was released in 1956 and was loosely based on an Italian film Puzitor. Music of Edhi Nijam was directed by Master Venu, another famous name in the South Indian cinema industry. Songs that will completely blow your mind are- Gutthivonkaaya Koora by Jikki and Yedi Nizam Yedi Nizam by Ghantasala Madava Peddi Satyam. These songs are available on Saregama's S. Balachander birthday playlist and also on Saregama Caravan. So do not forget to add these S. Balachander birthday songs to your playlist.
Some of the other directorial marvels of SB that deserve a mention of the occasion of S. Balachander birthday are Andha Naal (1954), Avan Amaran (1958), Avana Ivan (1962), Bommai (1964), En Kanavar (1948), Kaithi (1951) and Nadu Iravil (1970). Make sure to add songs of these films to your S. Balachander birthday playlist. For the film Bhakta Thulasidas, he composed music with Anil Biswas.
He served as assistant editor on Idhu Nijama (1948), and he also acted, sang, and composed music for En Kanavar (1948) and Kaithi (1951), in which he performed the same roles. The list includes films such as Devaki (1951), Rajambal (1951), Rani (1952), Inspector (1953), Penn (1954), the Telugu film Sangham (1954), and the classic Tamil thriller Koteeswaran (1955). His other movies include Avana Ivan (1962), Bommai (1964), and Nadu Iravil (1970). In addition to acting, he directed and scored several of the films he appeared in. In addition to Edi Nijam (1956), Bhoologa Rambha (1958), the Telugu Bhooloka Rambha (1958), Avan Amaran (1958), Avana Evan, Bommai, and Nadu Iravil, he has also directed. The Leftist political film Avan Amaran, made for People's Films, had influences of Kurosawa's Rashomon (1950). Among his best-known works are his adaptations of Agatha Christie (Nadu Iravil) and George Stevens (Avana Evan). Even though he was a purist for traditional music, his film scores often displayed jazz, Latin American music, and western classical influences. Make sure to add the tracks of all these songs to your S. Balachander birthday song list.
On S. Balachander birthday, we look back at all the awards he was honored with. The Certificate of Merit for Best Feature Film in Tamil – Andha Naal, Certificate of Merit for Best Feature Film in Telugu – Edi Nijam, Sangeetha Kalasikhamani, by The Indian Fine Arts Society, Chennai, and the prestigious Padmabhushan bestowed by the government of India in 1982.
So on S. Balachander birthday, let's honor the legend by listening to his exceptional veena and songs from his movies that we exclusively curated for music lovers like you.