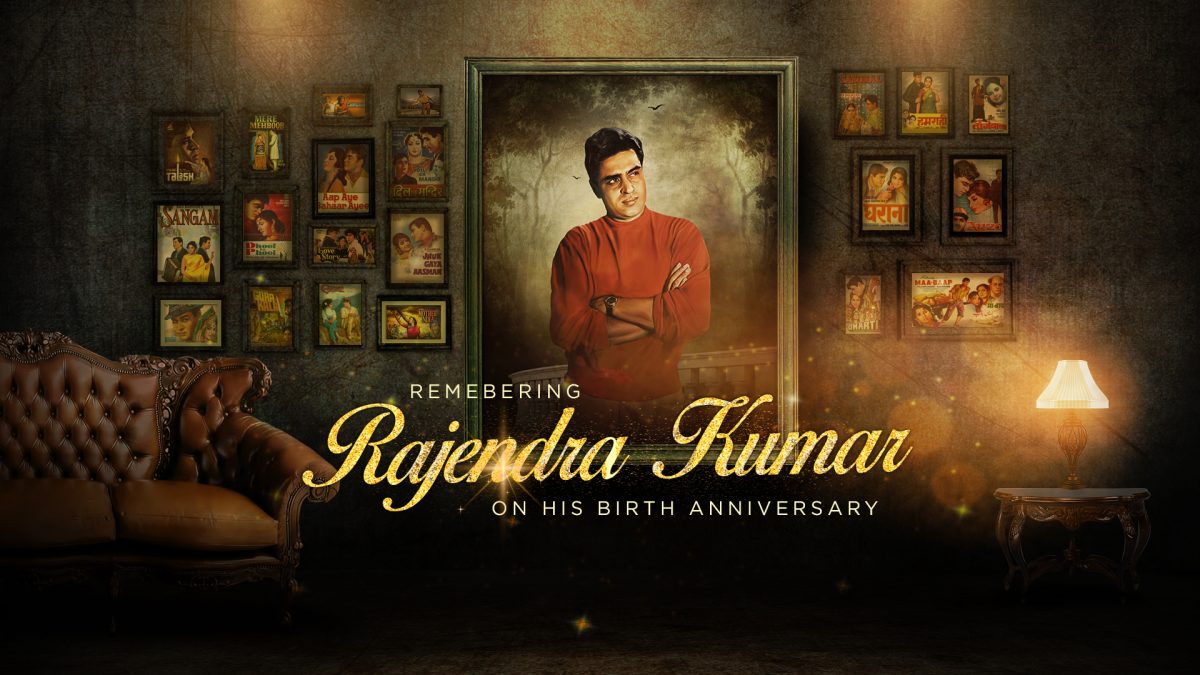 One of the biggest superstars of the 1960s Indian cinema, Rajendra Kumar did over 80 films throughout his four-decade-long career. Said to not only have been one of the finer actors Bollywood has seen in the 60s, but Rajendra Kumar also has a keen sense of good music. That coupled with his never say die attitude towards life, his nickname "Jubilee Kumar" seemed appropriate for an actor such as him. 
Born on the 20th of July 1927 to a wealthy Punjabi family in the Punjab of British India, Rajendra Kumar grew up comfortably before his family has to relocate to India, leaving all their riches, land, and everything behind and starting fresh. He came to Mumbai to decide to try his luck with the Bollywood film industry but he never wanted to be an actor. He took up work with director H. S Rawail as his assistant and worked with him for nearly five years assisting on movies like Patanga, Sagai, Pocketmaar. 
During this time while working as an assistant, Kumar did a couple of cameo roles in movies like Patanga (1949) and Jogan (1950). From there the producer Devendra Goel scouted him and gave him a chance in the film Vachan in 1955. Although the film did not play him well, it was a commercial success and was Rajendra Kumar's first silver jubilee film giving him the title "A Star Is Born" 
After his first successful film, Rajendra Kumar saw more success with his supporting role in the film Mother India (1957) where he played the role of Nargis's son. His first break as a leading actor was in the musical film Goonj Uthi Shehnai (1959) co-starring Ameeta. 
The year 1960 saw the rise of Rajendra Kumar to stardom. The year also gave him his nickname "Jubilee Kumar" because at one point Rajendra Kumar has more than 6-7 films running for over 25 weeks in all cinema theaters all at once (called silver jubilees). 
Some of his famous films include; Dhool Ka Phool (1959), Gharana (1961), Dil Ek Mandir (1963), Mere Mehboob (1963), Sangam (1964), Aye Milan Ki Bela (1964), Arzoo (1965), Suraj (1966), Jhuk Gya Aasmaan (1968), Talash (1969), Ganwaar (1970), Gora Aur Kala (1972), Do Jasoos (1975). 
After this Rajendra Kumar faces a series of flopped films and switched to supporting character roles once again. He also starred in many Punjabi films such as Teri Meri Ik Zindri and Do Sher. 
In 1981, he launched his son Kumar Gaurav in the film Love Story that Rajendra Kumar produced and also starred in. The film was a blockbuster ad that earned nationwide success. He then went on to star alongside his son in several different films. His last roles were in the television series Andaz and Vansz in 1955. 
On 12th July 1999, Rajendra Kumar suffered a cardiac arrest in his sleep and passed away at the age of 71. He had supposedly refused to take medicines.  
Even though Rajendra Kumar never won any awards throughout his career he was nominated for several of them. He was nominated for Filmfare Awards for Best Actor for three consecutive years for his roles in films Dil Ek Mandir, Ayee Milan Ki Bela, and Aarzoo. He was also nominated for Filmfare Awards for Best Supporting Actor for his role in Sangam. In 1969 he was honored with Padma Shri by the Government of India. He was also conferred as Justice of Peace honor and served as Honorary Magistrate. He was also awarded a special Lal Bahadur Shastri National Award and was associated with several charity schemes.  
On Rajendra Kumar's birthday, Saregama celebrates his life and his contribution to Indian Cinema. 
Now you can stream all your favorite Rajendra Kumar songs on Saregama Carvaan. Saregama Carvaan is a portable audio speaker with preloaded 5000 evergreen Hindi songs that you can listen to anywhere anytime without ad breaks or internet connection. It consists of other features like Bluetooth, FM/AM radio, USB, and AUX connectivity.