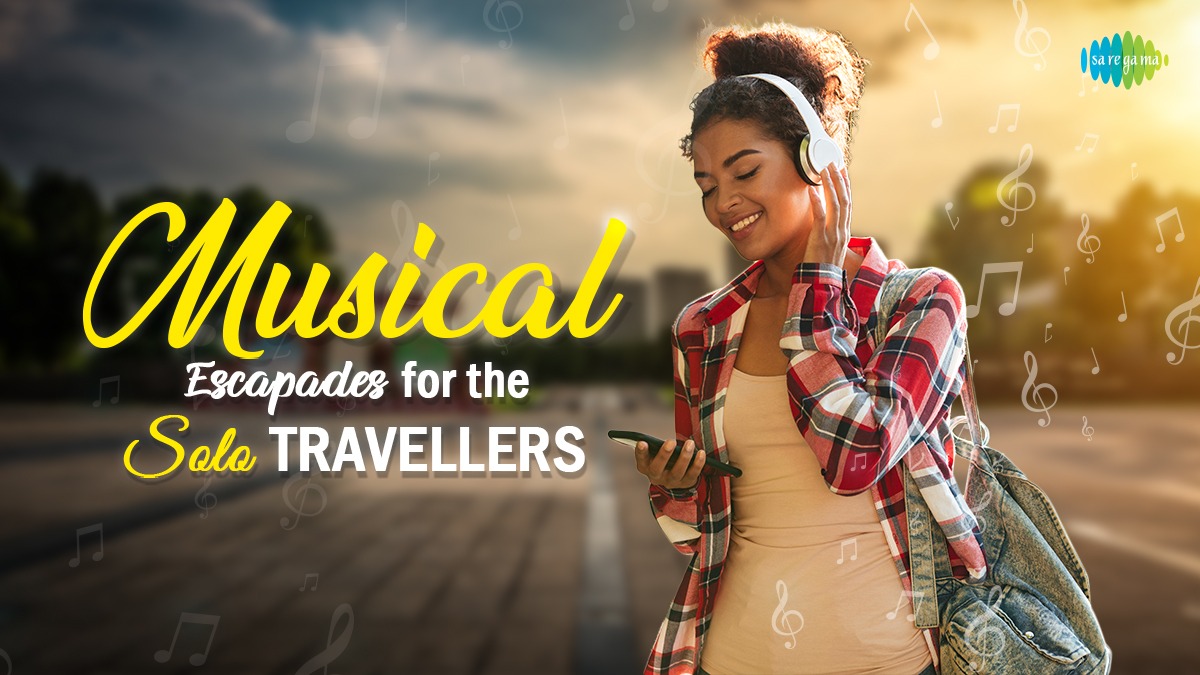 Are you one of those people jo 'Udana chahte hain, Daudna chahte hain, Girna bhi chahte hain par bass Rukna nahi chahte. Jo duniya ka kona kona dekhna chahte hain'? Then you too are a Wanderlust Bunny!
Travelling with friends and family is amazing but travelling solo happens to be an altogether different experience. It's a transformative experience that allows you to discover the world while finding yourself in the process. It is an adventure that opens doors to new cultures, people, and places. While solo travel can sometimes be challenging, the experience can be immensely rewarding. And don't worry about walking miles or long train rides without having anyone by your side because music becomes your true companion on the go. From soul-stirring melodies to foot-tapping beats, music will accompany you on different types of solo trips, creating memories that will last a lifetime.
The Soul-Searching Mountain Retreat
For those seeking solitude amidst nature's grandeur, a solo trip to the mountains is the perfect escape. As you trek along winding paths, the melodies of "Musafir Hoon Yaaron" from the movie "Parichay" will resonate with your soul. The soulful voice of Kishore Kumar and soothing music will blend harmoniously with the majestic landscapes, encouraging you to embrace the serenity around you.
The mountains have a unique way of touching our hearts and stirring our spirits. As you venture alone into the wilderness, you are stripped of the noise and distractions of everyday life. In these moments of solitude, "Musafir hoon yaaron" becomes more than just a song; it becomes a conversation. The lyrics, penned by Gulzar, speak of a yearning for liberation and an appreciation for life's simple pleasures.
With each step, you'll find yourself humbled by the vastness of the mountains. The song's uplifting melody will spur you forward, making you feel like a part of something much greater than yourself.
The Exhilarating Adventure Expedition
For the adrenaline junkies embarking on thrilling adventures like hiking, paragliding, or water sports, "Zindagi Ek Safar Hai Suhana" from "Andaz" will serve as your anthem. The motivating lyrics, combined with Kishore Kumar's powerful vocals, will inspire you to push your boundaries and conquer new heights during your solo escapade.
Adventure travel demands courage and determination, this song encapsulates the essence of this spirit. As you take on new challenges, the song's energetic beats will synchronize with the pounding of your heart. You'll feel invincible as you push yourself beyond limits you never knew existed.
The Bohemian Beach Sojourn
A solo beach vacation is all about embracing the carefree spirit and tranquil shores. As you bask under the sun or take long walks along the coastline, "Yeh Sham Mastani" from the movie "Kati Patang" will become your cheerful companion. This iconic song, sung by Kishore Kumar, will evoke a sense of camaraderie, reminding you of lifelong friendships and cherished moments.
The lyrics and captivating melody of this song will infuse you with a sense of freedom and playfulness. As you watch the waves crash on the shore, you'll realize that life is like the ocean – unpredictable, vast, and meant to be embraced with open arms.
The Heritage-Centric Cultural Exploration
When you explore historical landmarks, immerse in local traditions, and visit centuries-old monuments, "Maula Mere Maula" or "Duma Dum Masst Kalandar" will add a spiritual touch to your journey. Cultural exploration is not just about visiting places; it's about understanding the stories that shaped them. As you wander through the intricate architecture and historical sites, "Maula Mere Maula" will elevate your experience to a spiritual pilgrimage. The Sufi-inspired song will resonate with the innermost corners of your soul.
It transcends language barriers, inviting you to embrace the cultural richness of the places you visit and the people you meet. You'll find solace in the song's contemplative melody as you ponder the timeless wisdom that these heritage sites hold.
The Urban City Escape
Roaming the bustling streets of a vibrant city, exploring museums, and relishing street food is an invigorating solo experience. "Mera Joota Hai Japani" or 'An Evening in Paris" will be your perfect city anthem. City travel is a kaleidoscope of emotions – excitement, loneliness, wonder, and joy. In the midst of the city's hustle and bustle, these songs will allow you to embrace that city and let go of your worries back home. While a new city may feel overwhelming at times, but remember to take it all in and go with the flow!
The Enchanting Desert Safari
As you venture into the enchanting desert, "Ruk Jaana Nahin" from the movie "Imtihan" will echo the spirit of not giving up. As you listen to the soulful melody echoing through the dunes, you begin to embody the spirit of "Ruk Jaana Nahin." It instils a deep sense of self-belief and determination within you, allowing you to conquer the challenges of the desert and life alike. Embracing the song's timeless message, you continue your journey with unwavering resolve, knowing that you will emerge triumphant, just like the protagonist of the movie who overcame all obstacles and achieved success.
Travelling solo is an incredible journey of self-discovery, and Bollywood music becomes the cherished companion that enriches every moment. From the mountains to the beaches, the cities to the deserts, these songs will resonate with different aspects of your solo adventure. As you immerse yourself in soul-stirring melodies and foot-tapping beats, you'll find solace, inspiration, and joy in the magical blend of travel and music. And having a companion like a Saregama Mini will ensure all your adventures are filled with music! So, pack your bags, put your Carvaan Mini Plus in a bag, and let Bollywood music take you on an unforgettable solo sojourn where you'll find yourself, one beat at a time. And you never know when you might find your Naina. Bon voyage!