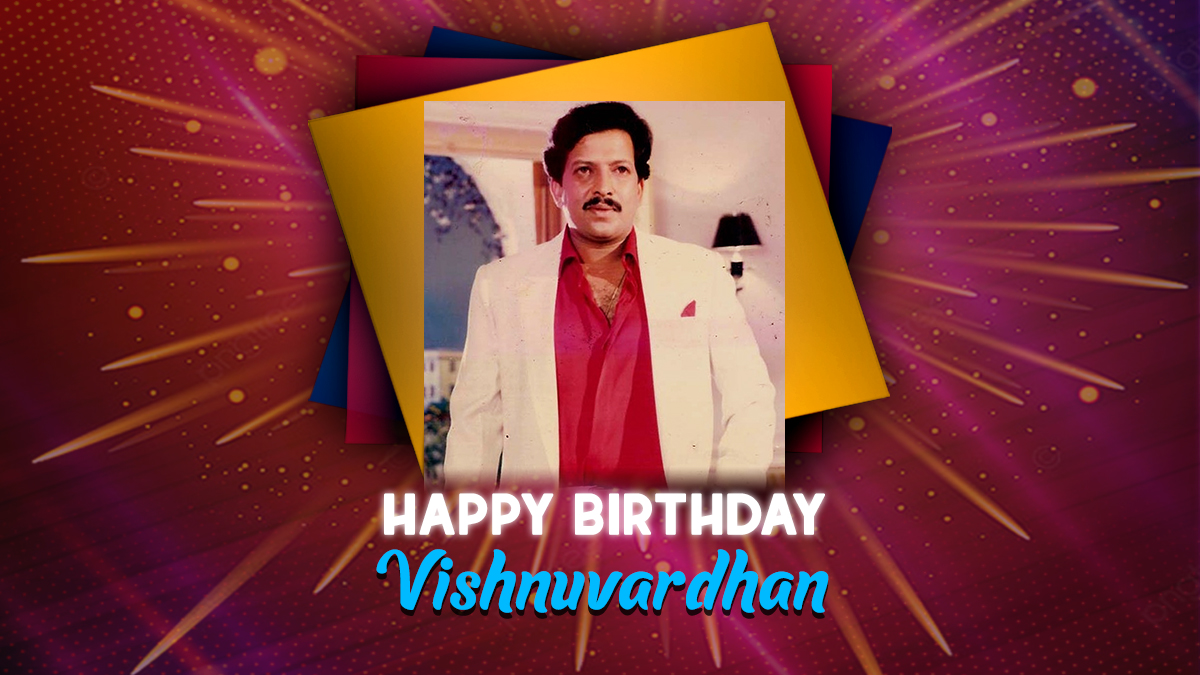 Cinema is an integral part of life in the southern part of India. The actors and actresses are loved, respected, and adored by the fan community like nowhere else. Kannada cinema, also known as Sandalwood, has a rich history, and it has contributed to Indian cinema in myriad ways. In the past, two superstars defined the Kannada cinema, and one of them was the talented, iconic, and legendary actor-star Vishnuvardhan. Although he is not among us anymore, Saregama remembers the Sahasa Simha of Kannada cinema on a day that would have been his 71st birthday. 
Some people are born to act, say the cinema connoisseurs, and Vishnuvardhan was one of them. However, acting came to him as an accident. Born to H.L. Narayana Rao, a music composer, and scriptwriter, and mother Kamakshamma, Vishnuvardhan's real name was Sampath Kumar. Raised in Mysuru, he did his schooling and college at different places in Bangalore. 
As destiny would have it, the acting opportunity came to him and not vice versa. He was at the right place at the right time and things happened. In 1972, he started his acting career in the movie Vamshavruksha. Moving on, he got his first lead role as an actor in the superhit movie Naagarahaavu in 1972. The director of this movie was Puttanna Kanagal, who was like a guru to the actor. It was his first lesson in the cinema as well. Also, it was he who gave the actor the name Vishnuvardhan. The movie did well, and his acting career took off like a dream. 
In his career spanning many decades, he acted in some amazing movies such as Naagarahaavu, Bandhana, Krishna Nee Begene Baro, Suprabhatha Veerappa Nayaka, Lion Jagapathi Rao, Surya Vamsha, Yajamana and others. It was the movie Sahasa Simha which gave him the same title. Vishnuvardhan was loved for his amazing acting, dialogue delivery, and sensitive nature. His powerful performances breathed life into every role he played. His versatility was on display many times. For example, he shined as an angry young man in Naagarahavu, an army officer in Muthina Haara and romantic hero in Bandhana. He remains an inspirational actor for the new generation. 
Listen to the best Vishnuvardhan songs only on Saregama Carvaan and celebrate his life and legacy. Find an amazing list of songs like Neerabittu Nelada Mele, Jeeva Veene Needu Midithadha, Haavina Dwesha Hanneradu Varusha, Maamaravello, Prema Preeti Nannusiru and many more. Saregama website 1Lac+ high quality mp3 songs, one can download it.
Other then acting in the Kannada movie industry, he worked in many Hindi movies like Ek Naya Ithihas and Inspector Dhanush. Also, he shared screen space with some of the most popular stars in the south like Rajnikanth, Mammooty and Prem Nazir. He even acted in the TV serial Malgudi Days. Besides acting, Vishnuvardhan was a writer, singer, and producer. He was known to have learned martial arts and did mimicry as well. Another highlight of his illustrious career was that he played dual roles in fifteen movies which is a record. 
His personal life was as beautiful as his professional work. He has four sisters and a brother. The actor married popular actress Bharathi Vishnuvardhan in the year 1975, and they have two daughters. Their life as a couple has been amazing and inspirational. People close to the star often describe him as a large-hearted individual who would help others every time. In 2009, the 59-year-old star-actor died of a heart attack in Mysore Hospital. 
He has left a rich legacy and an oeuvre that will be remembered for a long time in the Kannada movie industry. His personal life has also inspired many to live productive lives. On Vishnuvardhan's birth anniversary, Saregama remembers and salutes the wonderful late actor as well as the person. You can listen to his best songs on Saregama Carvaan.