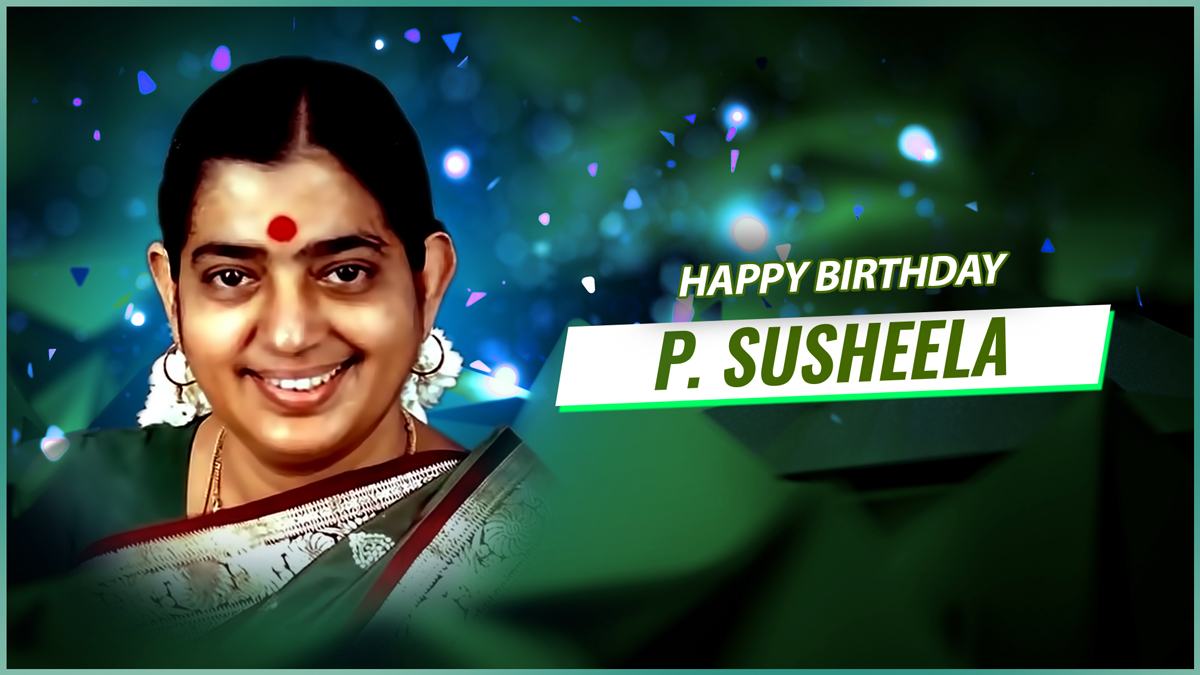 Pulapaka Susheela or popularly known as P. Susheela is one of the greatest and best-known Indian playback singers primarily associated with the South Indian Cinema for over six decades. She is recognized by both the Guinness Book of World Records, and the Asia Book of Records for performing a record number of songs in different languages. She is also the holder of five National Film Awards as well as multiple state awards. P. Susheela is the face of feminism in the South Indian film industry and is known as the woman who started feminism there along with being the beholder of 50,000 film songs sung by her in multiple South Indian languages. 
Born on the 19th of November 1935 in Andhra Pradesh to Pulapaka Mukunda Rao, a leading advocate in Vizianagaram, Vizianagaram District of Andhra Pradesh. Ever since a child, P. Susheela had a natural liking to music and singing and often her voice is described as mellifluous. After completing her schooling, P. Susheela joined the Maharaja Music College under the tutelage of Dwaram Venkataswamy Naidu, the principal, and completed her diploma in music with the first class at a young age.  
Because she was born into a music-loving family, Susheela was nurtured and trained in Indian classical music from quite a young age. With her constant participation in every school and town singing event, she picked her apt singing modulations and expressions from her stage performances. Her first encounter with music as her job was when she sang a few songs for All India Radio for their private program telecasts. 
Her debut came in 1950 when music director Pendyala Nageswara Rao was on the lookout for some fresh voices to sing for his film compositions. He asked All India Radio to send him a list of their finest singers and they sent a list consisting of five people out of which P. Susheela was selected after further audition tests. 
Her first project came immediately after as the 1965 Tamil film Petra Thai for a duet song with A. M Rajah. This started her long relationship with AVM Studios and got her on their payroll. The studio owner also hired a Tamil tutor to polish Susheela's pronunciations. Thus began P. Susheela's career in music and languages. The following year in 1954 she debuted in Kannada language songs. 
The task of establishing their feet in the industry as a female playback singer, especially for a newcomer was not an easy feat to conquer with the monopoly of famous female singers like P. Leela and Jikki. Yet Susheela managed the task with her back-to-back hits in both Tamil and Telugu industry in 1955, establishing her clear and distinct vocals as her signature. She created a huge impact with her effortless rendition of the toughest notations. The same year, her next Tamil release Kanavane Kan Kanda Deivam made her a household name in Tamil Nadu. 
Thus, the long list of music and associations started when Susheela worked in multiple South Indian language films as the playback singer and worked with all the legendary South Indian filmmakers and music directors, and composers.  
The legendary Tamil musician Vishwanathan-Ramamurthy duo composed some of the most evergreen Tamil songs in the history of Tamil music in the voice of P. Susheela. Some other popular P. Susheela songs include; Oh Mama, Love Birds, Poonthenil, Yerikkarai, Nalandhana, Suttum Vizhil, Darling Darling, Thedinen Vanthathu, Kodai Thantha Vallal, Azhaage Va, Indru Vantha Intha, Muthana Muthalavo, Ninaikka Therintha, Maanaattam, Neeyam Naanum Ondru, Kumaripennin, Paal Vannam, Paani Ilaatha, Poga Poga Theriyum, Rajaavin Paavai, En Kanmani amongst others.  
According to statistics, P. Susheela has sung 12,000+ Telugu songs, 6000 Tamil songs, 5000 Kannada songs, 700+ Malayalam songs, and 300+ songs in other languages consisting of 100 songs in Hindi. She has won five National Film Awards, 7 State Nandi Awards, 2 Tamil Nadu State Awards, 2 Kerala State Awards amongst multiple other state awards. In 2006 she was honored with Filmfare Lifetime Achievement Award South. Along with 4 Civilian and State Government honors including Padma Bhusan given by the Government of India in 2008. 
On the occasion of P. Susheela's birthday, Saregama wishes her a hearty birthday and celebrated her contribution to the South Indian music industry. 
Now you can listen to the top P. Susheela mp3 songs on saregama.com or high-definition songs on Saregama Carvaan Tamil. Saregama Carvaan Tamil is a portable digital audio speaker that comes with 5000 preloaded evergreen Tamil and Hindi songs that you can listen to any time without ad breaks or an internet connection. It also consists of other features like Bluetooth, FM/AM radio, USB, and AUX connectivity.