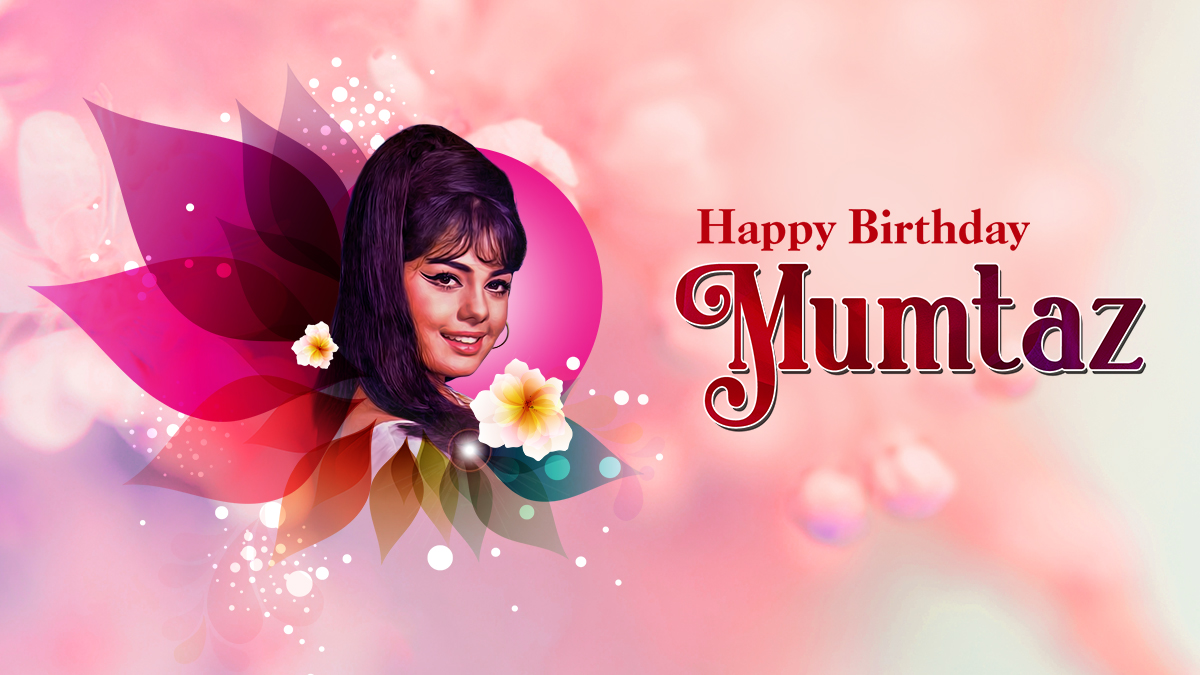 One of the prime Indian actresses of the 60s, Mumtaz Askari Madhvani is the recipient of the Filmfare Award and the Filmfare Lifetime Achievement Award for her contribution to Hind Cinema. 
Born on the 31st of July 1947 to Abdul Saleem Askari, a dry fruit vendor, into poverty in an urban slum in Mumbai, Mumtaz joined the entertainment industry at the age of 11 when she made her debut in the film Sone Ki Chidiya in 1958. She worked as a child artist in many films such as Stree in 1961, and Sehra in 1963, she progressed into leading roles in action films opposite wrestler Dara Singh. Working in action movies she did films like Faulad (1963), and Daku Mangal Singh (1966).
Though trouble came when working in the action films deemed her as a stunt film heroine and her career stalled for a while. She then switched to supporting roles in movies like Ram Aur Shyam (1967), Mere Hamdam Mere Dost (1968), and Brahamchari (1968). Her breakthrough role came in the form of Raj Koshla's drama movie Do Raaste in 1969 that got her out of her slump and she went on to establish herself as one of Bollywood's leading ladies in the 60s.  
Some of her popular movies include; Aadmi Aur Insaan (1969), Saccha Jhutha (1970), Khilona (1970), Tere Mere Sapne (1971), Hare Ram Hare Krishana (1971), Apna Desh (1972), Jheel Ke Us Paar (1973), Chor Machaaye Shor (1974), Aapki Kasam (1974), Roti (1974), Nagin (1976), and Aainna in 1977 after which she took a sabbatical, returning to the industry after three years with the film Aandhiyan in 1990. Though the film did not do well on its release, following which Mumtaz retired from the industry. 
During her acting career, Mumtaz carved a niche for herself and became popular for escaping typecasting, something that had stalled her career in the first place. She became well known as a prominent sex symbol and established herself as the highest-paid actress of the late 1960s to the mid-1970s. Before big entertainment names like Shashi Kapoor and Jeetendra refused to work in a movie opposite her because she was a "Stunt Film Heroine" later came around to ask to cast her opposite them in big movies. After her retirement, she relocated to London to live with her husband, A Uganda-based businessman, and started a family with him. Post her retirement, Mumtaz battled breast cancer and hence she is a prominent advocate for breast cancer survivors. 
As popular a star as Mumtaz was, her career in the industry remained brief. She won the Filmfare Best Actress Award for one of her favorite films, Khilona in 1970 and Mumtaz quoted that she was delighted that the audience accepted her in an emotional role; something that was different from her stunt film roles.  
At one point in her career, Mumtaz and famous actor Shammi Kapoor were rumor to have been in love and ready to tie the knot. In an interview, Mumtaz opened up about her romance with Shammi Kapoor stating that she was young (only 18) and shooting Brahmachari when she fell in love with Shammi Kapoor. However, that did not work out as Shammi Kapor didn't want his wife to work in the industry and Mumtaz was not ready to give up her career. She agreed that she was well admired by the industry men and she found her co-stars good-looking, however, she said it isn't always necessary to date your co-star, you can admire them from a distance.  
On her 75th birthday, Saregama wishes Mumtaz a very Happy Birthday and celebrates her work and contribution to the Hindi Film Industry. 
Now you can play all your favorite Mumtaz songs on Saregama Carvaan. Saregama Carvaan is a portable digital audio player that comes with 5000 preloaded evergreen Hindi songs that you can enjoy anytime without ad breaks or an internet connection. It consists of other features like Bluetooth, FM/AM radio, USB, and AUX connectivity.