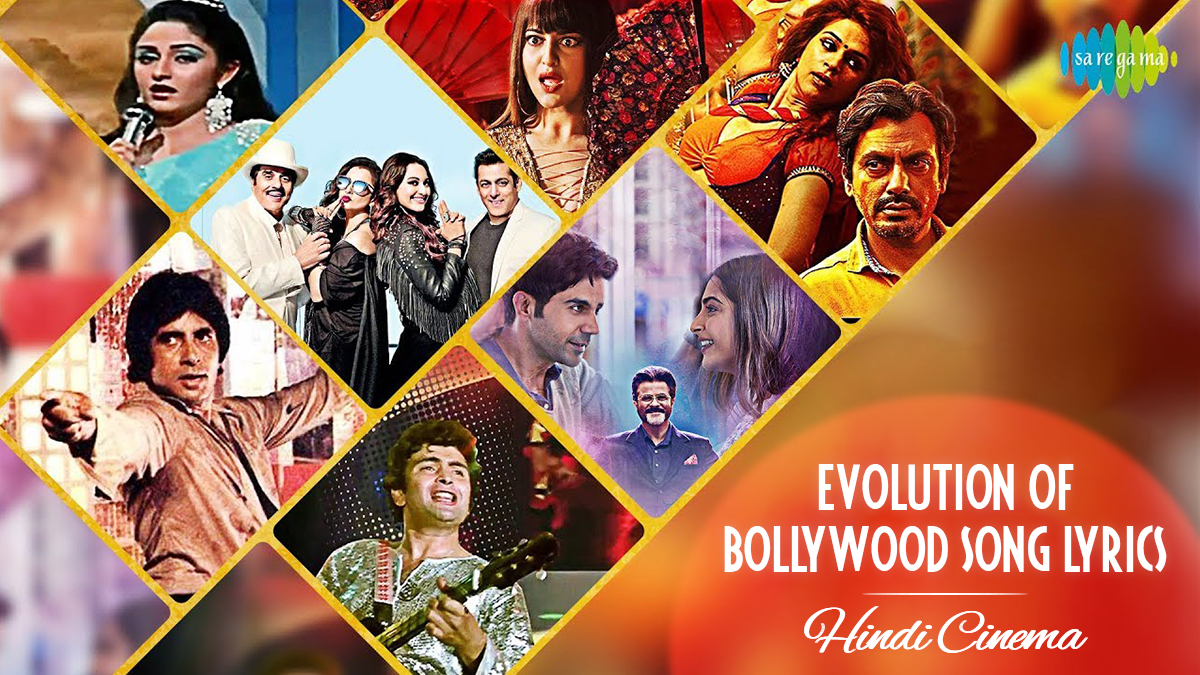 Without a doubt, Hindi cinema has always been defined and redefined by mainly three things; music, lyrics and dance. The splendour and the beauty of lyrics in Hindi movies, from time immemorial, has dazzled everyone in India. And it is true that Bollywood song lyrics have evolved over a period close to 100 years.
When one ponders over the lyrics that were part of Hindi cinema in the 1950s, the words evocative, thought-provoking, and mellifluous come to mind. The simple yet intellectual take on life and philosophy of that generation permeates every song lyrics of that time. It was marvellous and soothing to the listening ears.
The legendary lyricist like Sahir Ludhiavni, Shailendra and Majrooh Sultanpuri had a penchant to write the best song lyrics of all time. They encapsulated every human emotion like love, loss, pain, celebration, pleasure, the effects of which reverberates even today if only you have the desire. Giving voice to them were singing legends like Lata Mangeshkar, Mohammed Rafi, Mukesh, Hemant Kumar who brought the lyrics alive.
It has to be noted that lyrics always played an essential role in enhancing the storyline during that era. The 1950s started the golden era of Hindi music and lyrics certainly played a major role in attaining that recognition. The evergreen romantic songs pictured on superstars like Dev Anand, Dilip Kumar and Raj Kapoor became superhits. The combination of music, romantic song lyrics and picturizations left a lasting impression on the viewers and continues to do so effortlessly.
The 1960s was sizzling and swaying, literally, for Bollywood movies. The glamour quotient became central to stars and stories. Colour added a new dimension. Things were changing dramatically. While the song picturizations became colourful, cheerful and energetic, lyrics retained its initial beauty but perhaps with a bit of aggressiveness. It has to be said at this point that the poetic and artistic elegance was still intact in the lyrics.
With R.D. Burman and Kishore Kumar breaking into Bollywood, the song lyrics become more in tune with musical rhythms and modern orchestration. Lyrics were still full of meaning with more zeal, love and life. It ushered in a new era of soulful lyrics with vibrant music. The next two decades were filled with romantic songs with upbeat lyrics. The innocence of lyrics was at its peak with an inevitable change banging at the door.
It is worthy to observe that songs became super hits during this era. People loved movies and at the same time, good songs mattered so much for the audience. The commercial element of movies now succeeded even with songs alone.
The disco era reached India in the 1980s and the lyrics evolved. But the music became predominant. From the 1990s till now, there has been a mixture of meaningful lyrics and sometimes lyrics were written just to support music.
The meaning of lyrics has become irrelevant for the most part today. But Gulzar, who is one of the few lyricists who has worked in the golden era as well as today, believes song lyrics are meant to change and evolve as per the interests of the people and the new generations that find it amazing. He is one of those legends who has written both meaningful lyrics as well as lyrics for item songs.
For many people in India, good lyrics are still a necessity to love the song. In a country that hums songs everywhere, all romantic songs with lyrics are very handy. Even the lyrics of item songs are meant to be learned and sang with a happy voice. You can listen to the best evergreen Hindi songs on Saregama Carvaan, a digital audio player with 5000 evergreen Hindi songs sung by legendary artists like Kishore Kumar, Mohammed Rafi, Lata Mangeshkar, Asha Bhosle and many more. The portable speaker also has some exclusive features like Bluetooth, FM/AM radio and AUX connectivity.