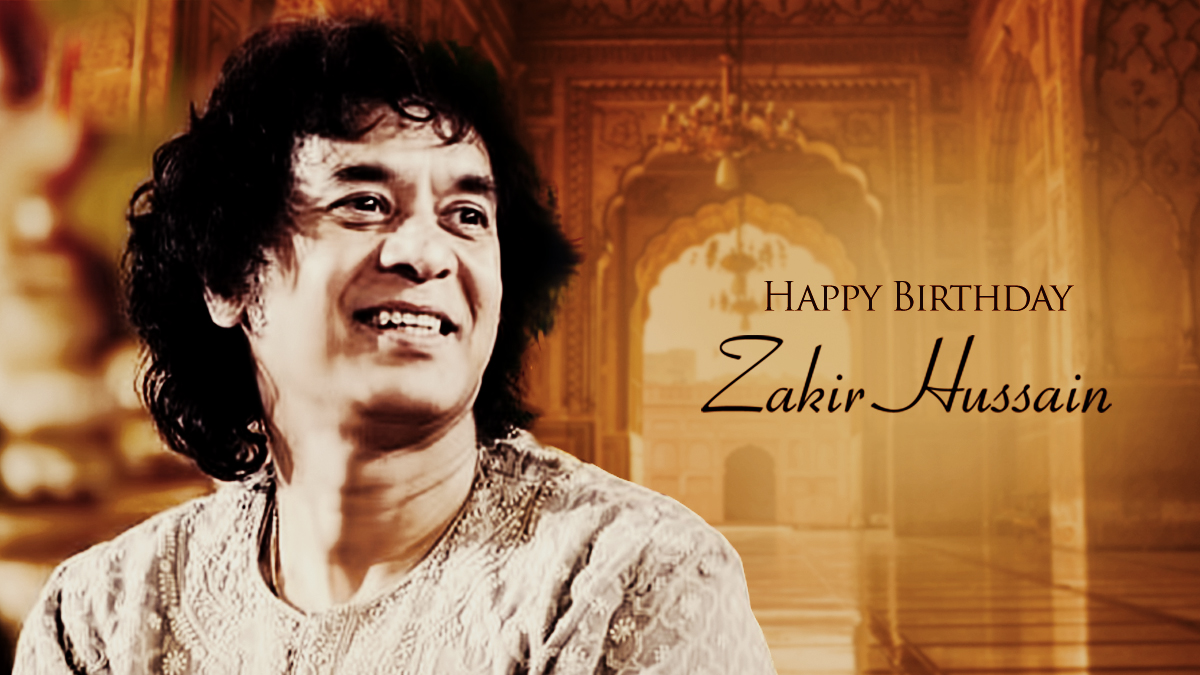 Zakir Hussain is undoubtedly the most famous Indian percussion artist and tabla virtuoso. In the past many decades, the legendary musician single-handedly elevated the status of tabla players and the majesty of the percussion instrument all across the world. In addition, he is one of the most influential musicians who has shaped modern world music. Besides, he is also popular as a composer, music producer and actor, who has thrived in each of the fields with his brilliance and has left an indelible mark. On the occasion of Tabla maestro Zakir Hussain's Birthday, Saregama takes a glimpse into the life and legacy of the living music legend.
Zakir Hussain was born on March 9, 1951. He is the son of popular tabla player Allah Rakha of the Punjab Gharana tradition of tabla-paying. Interestingly, his father was one of the pioneers of tabla who dazzled the audience worldwide with his talent and skill. The genius certainly passed on his magic to his son, who became a child prodigy himself. Zakir Hussain after learning music from his father, conducted his first concert at the age of 7. By age 11, he began touring for stage performances along with legendary names in the Indian musical scene of that era, both nationally and internationally. This opened up opportunities galore for him.
Zakir embraced the music of all kinds in his childhood years. This made him very interested in drums as well. Once he even thought to replace tabla with drums. In the 1960s, Zakir worked with The Beatles star George Harrison. And it was he who advised Zakir to stick to tabla and build his reputation with its unique music. That was the moment of clarity for the young Zakir and he never looked back. In the 1970s, he accompanied the great musician and the sitar maestro Pt. Ravi Shankar to the US and later joined Hindustani classical musician Ali Akbar Khan as a tabla player.
In the initial days of his blossoming music career, he collaborated with several western musicians like John Mclaughlin. Moreover, he was a part of the American psychedelic band Shanti and another band by the name Shakti. By 1987, he released his first solo album – Making Music, which was touted as the most inspirational eastern-western fusion ever done. Another of his album Planet Drum co-created with Mickey Hart received first Grammy award for Best World Music Album. He further invented and innovated tabla fusions with Tabla Beat Science with Bill Laswell in 1999.
The man with many talents wore the composer's hat for movies Heat and Dust, In Custody, The Mystic Masseur and others. Also, he played the tabla for the music of movies Apocalypse Now, Little Buddha and many others. The born genius once and for all revolutionized tabla playing and gave its rightful place at the top.
For his immense contributions to music, he was awarded Padma Shri in 1988. He received the Padma Bhushan in 2002. Additionally, he has received multiple prestigious national as well as international awards throughout his career. As of today, he continues to deliver eclectic performances on the world stage and inspires a whole generation of music lovers. Saregama wishes a healthy and happy birthday to Zakir Hussain as he turns 71 today.