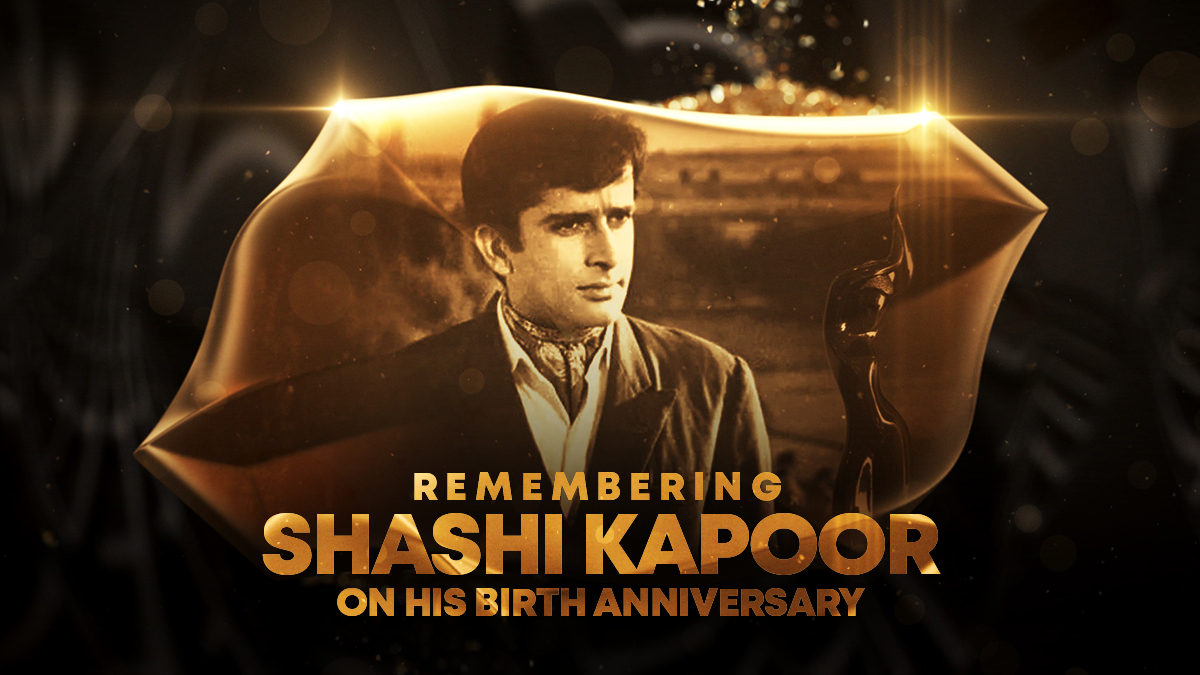 On the account of Bollywood's charming and extremely talented Late actor, Mr. Shashi Kapoor's 84th birthday this year, we would like to take you on a journey of a lifetime. Balbir Raj Kapoor, later known by his popular name Shashi Kapoor is single-handedly one of Bollywood's legendary actors. Born on 18th March 1938 in the state of Kolkata, to Prithviraj Kapoor and his wife, as the third son of the Kapoor family. He started his career as a child actor in his older brother's directorial "Aag" in 1948.
As an adult actor Shashi Kapoor entered Bollywood at the time of its popular toxic masculinity period. Where all the male actors were playing the roles of angry young men, farmers, gangsters, and the wronged men in gritty urban cinema; The 60s and the 70s of Bollywood were filled with such roles. Queue enters Mr. Shashi Kapoor with his luscious, wavy, dark brown tresses, elegant angular jaw, straight slim nose, plump rose lips, kind soft eyes, and slender frame. Before him, in urban cinema, men were always portrayed as strong, bulky, aggressive, assertive, with stoic features. And their leading ladies were shown as their conscience and their chief of virtues. But with Shashi Kapoor's beautiful looks, the tides of Bollywood switched.
He was usually cast as the shy, rich man, the man with virtue and conscience. Then his leading ladies were portrayed as strong, independent women who were pursuing him; the roles reversed. A refreshing change.
Throughout Shashi Kapoor's three-decade-long career, his features, his looks, and his acting talents became the cause of countless love confessions and admiration. He was like those Korean dramas lead male actors you guys love to watch these days but in the 70s.
He had worked with a lot of Bollywood's legendary actresses such as Raakhee, Zeenat Aman, Sharmila Tagore from the late sixties to the mid-eighties. He also acted opposite actresses like Hema Malini, Parveen Babi, and Moushumi Chatterjee in many films. Acting as the lead in some of Bollywood's Classic Masterpieces like Aamne Saamne (1967), New Delhi Times (1985), Roti Kapda Aur Makaan (1974), Satyam Shivam Sundaram (1978), Do Aur Do Paanch, and Anjaam.  
His bromance with Legendary actor Amitabh Bachchan was widely loved where Shashi Kapoor played the roles of policemen, mine worker, or the son of a businessman, and Amitabh Bachchan played the roles of gangster, mafia, and the wronged man.
In his extremely popular career, Shashi Kapoor worked in over 175 films, of both Hindi and English language. He won numerous accolades, including not one, not two, but four National Film Awards and two Filmfare Awards. Not only that, but he was also featured in several English-Language movies, mainly produced by Merchant Ivory. Having such a diverse career, the Government Of India, awarded him with the Padma Bhushan award in 2011, and the Dadasaheb Phalke award in 2015.
Some of his awards include BFJA Awards For Best Actor for his role in the popular Bollywood film Jab Jab Phool Khiley (1965). He won the Filmfare For Best Supporting Actor in the film Deewaar (1974). He won another Filmfare Award for his movie Kalyug (1981). He won the Filmfare Best Actor Award and the BFJA Awards For Best Actor for his performance in New Delhi Times (1986).
And these are only a fraction of his contribution to Bollywood; for he was awarded the Filmfare Lifetime Achievement Award in 2010, The Padma Bhushan Award in 2011, and the Dadasaheb Phalke Award in 2015. We tragically lost him back in December of 2017 to Liver Cirrhosis at the age of 79. Nonetheless, his roles and his acting are still alive in the heart of all who loved and admired him.
You can listen to all your favorite Shashi Kapoor's songs on Saregama Carvaan. Saregama Carvaan is a digital audio player with 5000 retro Hindi songs. The portable speaker also has some exclusive features like Bluetooth and AUX connectivity.
On his 83rd birthday, Saregama celebrates his contributions to Indian cinema.