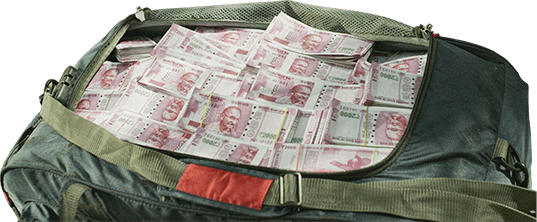 A self-righteous father, a god-fearing mother, a rebellious son, a dutiful daughter and just to round off things, an ailing wise old grandfather! Meet the Gupchups, the living template of an Indian middle-class household. Financially weak but morally rich, everything about their life was ordinary. As Papa Gupchup would always harp, "Paisa kam hai toh kya hua, izzat bahut kamai hai humne!"
Until the extraordinary day, they discover a bag full of crisp, brand new, unclaimed 2000 rupee notes. A relentless night of counting the stash with trembling hands ensues. Finally, Gupchups tap out the amount on their old creaky calculator and after a minor squabble on the number of zeroes, realization dawns that they are standing with a staggering windfall of 5 crores rupees under their noses. They immediately hide the bag inside their steel almirah, behind layers of clothes, put a huge lock on it and vow not to use the money, as that seems like the most ethical thing to do with their newfound loot!
But things turn murky when this unused, locked stash of money, manages to emanate its vicious tentacles, from the deep crevasses of that almirah, to engulf and tear the basic fabric of this "Izzatdaar" middle-class Puneri family!