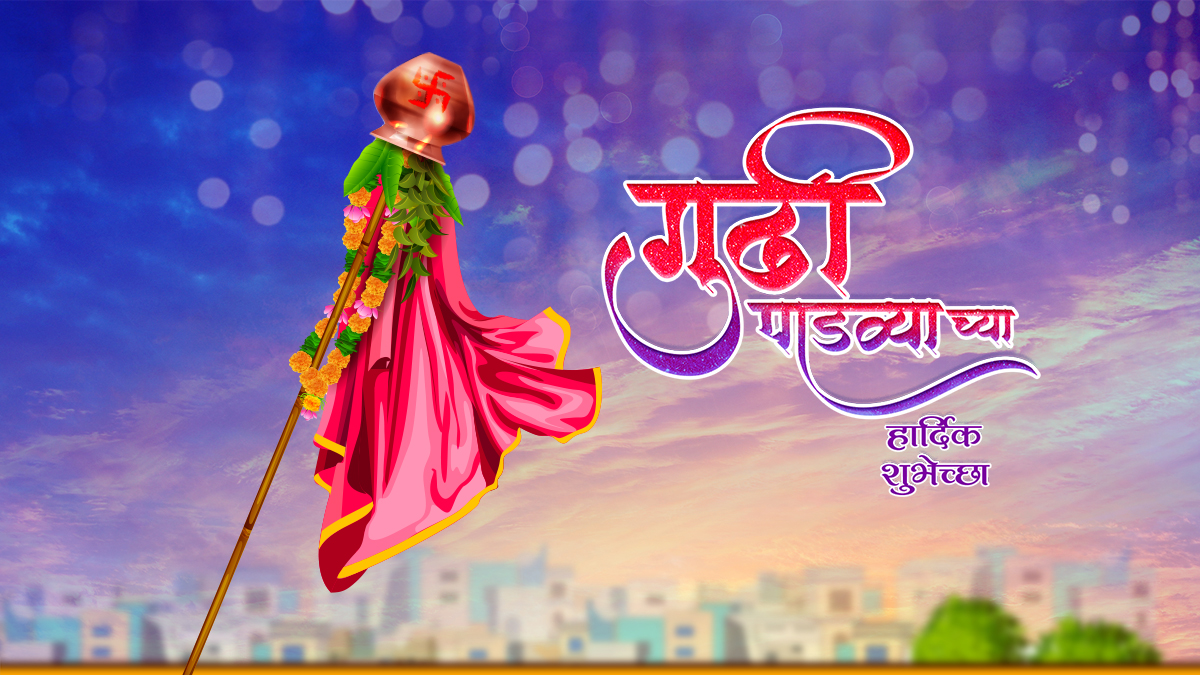 Come sway or swag into the celebration with us!
Yes! It is that time of the year when people start their day with a customary oil bath, after which they adorn the finest traditional outfits, palatial ornaments and fill their houses with flowers and fragrances. Colors of joy are spread across corridors and the traditional arrangement called 'Gudi' is placed at the doorways or windows inviting prosperity and good fortune to the family. 
The 'Gudi' preparations are done at the tail end of a tall wooden stick wrapped with a vibrant cloth, sweet-scented garlands, dazzlingly green leaves from neem or mango trees, and topped with a Kalash (metallic vessel). On this festive day, traditional dishes are cooked by every Maharashtrian family, including the conventional preparation of Prasad made by mixing contrasting ingredients, the bitter neem leaves with sweet jaggery, as a reminder of enjoying life's bitter and sweet experiences. 
The philosophy of Hindu mythology proclaims that Lord Brahma created the universe and established the days & years on this auspicious day! The day is named after Lord Brahma's symbol or emblem called 'Gudi' and 'Padwa' means the first day of the phase of the moon. It marks the traditional "New Year" for the Maharashtrians and other Hindus across various regions from India & abroad. 
The Gudi Padwa 2022, holds more excitement and buzz compared to the previous two consecutive years when the entire world was engulfed by the novel coronavirus, and the government was forced to ask people to stay indoors and celebrate the festival by maintaining social distancing. This year's Gudi Padwa has unshackled the human boundaries laid by this virus at every doorstep. Now, we are finally back to the 'normal' and for that reason, every single one of us should celebrate this year even better. 
This Gudi Padwa festival is one of a kind, where people from different generations can celebrate it in their own style, some like to sway and some like to swag! This festival is colorful with every generation adding their shades to it! A festival is like a canvas of joy, filled with memories and experiences from the oldest to the youngest ones from every house. Saregama presents here, some special tools for fun and frolic for each one of them.
Every festival like Gudi Padwa brings along a reason to relive the purpose of life. On such auspicious days, every grandparent would want to connect to their Lord and immerse themselves in devotion. We must understand and respect their expression of celebrating a festival. 
Bring home the Saregama Carvaan Mini – Bhakti Marathi for them to enjoy the true essence of devotion encapsulated inside this small handheld device. You can easily show them how to use it, with the easy-to-understand limited push buttons on this device, resembling the technology of their time! Saregama Carvaan is very user-friendly to operate and it also comes with a manual with self-explanatory guidelines. 
The magic of this mini carvaan spreads with 351 enchanted & soul-stirring Aartis, Mantras, and Bhajans songs. Show this list of all 351 songs to your grandparents today and record their reactions! These specially curated Marathi Bhakti songs from various artists, the Ganapati Aarti By Lata Mangeshkar, Prabhati Sur Nabhi Rangati from Prabhat Geeten by Asha Bhosle, Devaki Nandan Gopala by Manna Dey, Shree Satyanarayanchi Katha by Prahlad Shinde to name a few. Show them some love and make your grandparents feel special on this special day!  
While the younger ones are busy creating new memories, the parents are simply enchanted looking back at their golden memories of the past. They would take a walk down memory lane and cherish every picture-perfect moment they have spent during festivals. Often the elders gather along and they share fun experiences, play some games or listen to retro music that was preloved by them. 
A Saregama Carvaan Mini – Marathi is a perfect companion at these frolic times and gatherings! All the Superhit Retro Marathi Songs cherry-picked from various artists are all inscribed in this list of 351 songs! Hear them humming, whistling, and recalling their days back with songs like Gele Te Din Gele by Pandit Hridaynath Mangeshkar, Chandra Aahe Sakshiila by Asha Bhosle and Sudhir Phadke, Dehachi Tijori from the film Amhi Jato Amuchya Gava, Sandhikali Ya Asha by Lata Mangeshkar and Arun Date, Preeticha Zul Zul Paani from Banya Bapu, Kaashi Ga Kaashi from Hyoch Navara Pahije by Mahendra Kapoor and Usha Mangeshkar. 
A festival brings a family together, makes everyone forget their worries and problems, bestows happiness and peace. Remember the last time you had a blast with your family where everyone from age 2 to 82 was together under the same roof? It goes without saying that, music would be in the air with someone saying, the next song has to be my recommendation! 
The Saregama Carvaan – Marathi is perfectly designed for such occasions where anyone can name any evergreen song and you have it here! A humongous list of 5000+ songs in Marathi & Hindi classified by Artists like Dinanath Mangeshkar, Lata Mangeshkar, Asha Bhosle, Sudhir Phadke, Arun Date, Suresh Wadkar, Kishore Kumar, Mohd. Rafi and many more. Every mood is celebrated well in this version, from romantic to feeling lonely, from Natya Sangeet to Bhav Geet, from Bhajans to Lavani Hits, from Virah Geet to Dhamaal Geet! 
This musical celebration from Saregama will become an integral part of your festivals which binds everyone together and creates new memories that are as evergreen as the selection of songs done for the Carvaan Mini – Bhakti Marathi, Carvaan Mini – Marathi, and the all-inclusive mighty Carvaan – Marathi for all ages!